Rev. Francis Joseph Atlas, Sr.'s Civil Rights Struggle in Northeastern Louisiana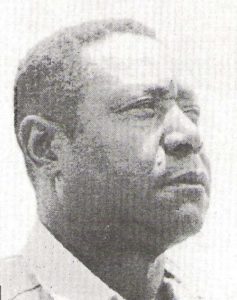 Rev. Francis Joseph Atlas Sr. was born January 2, 1905 in Lake Providence, East Carroll Parish, LA to Susie (Lee) Atlas and Louis Balfour Atlas, Sr. The grandson of slaves, Joseph or Bud (what family called him) was the sixth of eleven children. He attended Tuskegee Institute (now Tuskegee University) and received a certificate in Plastery in 1931. Rev. Atlas was a farmer and the only one of his siblings to live permanently in their home town. On December 30, 1925 he married Willie Mae (Gibson) Atlas in Lake Providence and they had 12 children. He was also the maternal uncle of The Thompson Sisters from the New Orleans chapter of the Congress of Racial Equality (CORE).
For as long as he could remember, he was denied the right to register to vote even though as a land owner he was made to pay poll taxes.
"In 1948, he and several other blacks organized the "Voters League" in Lake Providence, Louisiana. This represented an organized attempt to exercise their right to vote. It was only the beginning of what was to be a struggle that lasted for nearly two decades." (1)
Rev. Atlas, along with a group of other African Americans in the area, decided to challenge East Carroll Parish Registrar of Voters Cecil Manning after repeated attempts to register. The group eventually filed a suit and two witnesses were chosen to testify in front of the United States Commission on Civil Rights on September 27, 1960 in New Orleans; Rev. John H. Scott and Rev. Atlas.
"Almost immediately there was a backlash of unprecedented proportions. This organized conspiracy was designed to threaten, intimidate and coerce Reverend Atlas and other blacks in East Carroll Parish, for the purpose of discouraging them to vote. Various threatening, intimidating and coercive acts were recorded and reported." (2)
Rev. Scott was shot at at while driving. Crosses were burned in their yards. Rev. Atlas had to travel nearly 100 miles to get his farm products processed. (see Exhibit Z)
"A lawsuit was filed by the United States Department of Justice, Commission on Civil Rights, on behalf of Reverend Atlas and other black citizens. After several days of litigation, the court issued an injunction enjoining the defendants, their agents, employees and representatives from any other engagement in this organized conspiracy. In 1962 Reverend Atlas along with twenty one other black citizens of East Carroll Parish were escorted by federal marshals to the federal district offices in Monroe, Louisiana. There they registered as voters. That same year, those 22 citizens became the first black voters in East Carroll Parish." (3)
Eventually, the Justice Department filed a lawsuit against area businessmen regarding economic coercion and won. In July 1962, after nearly two years, the group was registered to vote by a federal judge. It took Rev. Atlas years to recover from the economic damage that was done, but he never lost his home or land. Rev. Atlas eventually was voted the head of the parish school board and served several terms in this position. He died on October 13, 1999 in Oak Grove, West Carroll, Louisiana. He was 94 years old. [/column]
News Coverage
Documents
September 27, 1960 – Testimony before the U.S. Civil Rights Commission, New Orleans, LA. Includes Exhibit Z which notes the lengths of the economic coercion.
November 1, 1960 – Letter from E. Frederic Morrow, The White House
February 12, 1962 – Brief in Support of Plaintiff's Proposed Findings of Fact (Care of Cleo Scott Brown)
May 3, 1962 – Findings of Fact (Care of Cleo Scott Brown)
July 12, 1962 – Court order listing the 76 applicants who applied to vote (Care of Cleo Scott Brown)
Obituary of Rev. Francis J. Atlas, Sr.
Burial Record of Rev. Francis J. Atlas, Sr.
Books
"Witness to the Truth: My Struggle For Human Rights In Louisiana" by John H. Scott with Cleo Scott Brown
This book documents Rev. Scott's fight to vote as well as the fight of several family members in East Carroll Parish, LA to do the same.
Google Books Search for Rev. Francis Joseph Atlas, Sr.
Sources